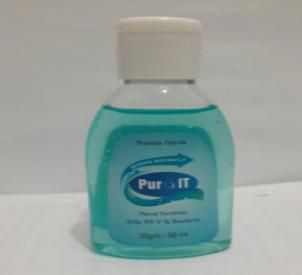 One of the most precious assets in a life of a person is his physical body. Only if it is functioning without any inconvenience, one can experience and enjoy life to a considerable extent, and for this, the most important thing is the quality of diet, environment and hygiene. Not to mention that even if the diet is good, the compromise in the part of hygiene can have ahazardous impact.
We live in an era where on the daily basis we have to travel to a considerable extent and touch various objects, and it is worth mentioning that those objects can be contaminated with various harmful foreign organisms. Those contaminated hands then possibly are used to consume food items as we don't have availability of soap and water at the desirable places which as result can cause certain ailments.
Hand Sanitizer Gel
Look after the issue of the contaminated hands and insufficient availability of the soap and water everywhere has given birth to hand sanitizer gel, which can be carried everywhere and can be used to sanitize the hands in the relevant places like before eating food items, touching faces, or the medical profession. This is one of the best sterilizing agents as just rubbing it in between the hands is equally effective as using soap and water.
These hand sanitisergels are very effective in killing harmful germs, removing dust and maintaining hygiene. They are available in a variety of flavours like aloe vera, IPA and so on. These are packed in a plastic bottle with a quantity starting from 100 ml and hence are safe to carry everywhere. They are available in both the pump and spray form and are convenient to be used by anyone.
Things To See In Sanitizer
There are certain things to look after before buying the sanitiser and some of them and mentioned herein:
1) Optimum Amount of Alcohol: One must make sure that at least 60% of alcohol must be present as an ingredient in the hand sanitiser gel as experts found that less than 60% of the alcohol is not effective in killing the harmful germs.
2) Other Ingredients: Another thing to look after is the ingredients must be healthy for the skin as it is observed that many sanitisers leave the skin utterly dry which is not a good sign for the health of the hands. Some ingredients like aloe vera, lemon, IPA and so on are suitable for this purpose.
3) Packaging: The packaging must be airtight as much of the goodness can be wiped off if the same is not taken care of.
So, we can have the idea that how important a role is played by the pure it hand sanitisergel in the daily life maintaining the good health and hygiene in day to day life. Check out the finest pure it hand sanitiser gel supplier that does not compromise in the terms of quality and provides the same atthe most competitive price range. It's time to take a pace towards the double H named health and hygiene.