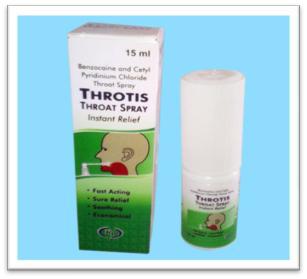 During each day we breathe approximately 10000 to 11000 litres of air. This air contains other irritant viruses, bacteria, dust pollution and smoke. Our nose is a wonderful natural machine. It acts as a filtration system and acts as an air conditioner. It soaks oxygen, purifies and then sent it to the lungs. It also gives an early warning alarm for the presence of airborne allergies and irritants. The nose is considered the gatekeeper of the lungs. So to protect health take care of the nose for good health. Therefore to prevent the cold nasal spray is used. However, different types of nasal sprays are available in the market.

Several companies are engaged in supplying throtis nasal spray to the customers. They are providing these nasal sprays at affordable prices to the customers. Several throtis nasal spray manufacturers are selling nasal sprays online as well as offline in the market. There are three types of nasal sprays like Decongestants, Salt-water solutions, Steroid Nasal sprays.

Ways saline nasal sprays provide help:
• It helps to wash out viruses, allergies, and other irritants in the nose.
• It helps to clean and hydrate tissues and important for the maintenance of nasal immunity.
• It can improve the medication when nasal saline is used first.
• It helps in reducing excess mucus in the nose and it gives relives to nasal congestion and discomfort.

Time to use Nasal Sprays
• It is used for Upper respiratory infections like colds or sinus
• It is used for high fever and allergy
• It is used for other respiratory allergies and after nasal surgery
• While travelling in aeroplane or cold areas for breathing cold.

Prevention & Precautions of throtis Nasal Sprays:
These Nasal sprays are advised to avoid children. However, these nasal sprays are also to be avoided from persons having high blood pressure heart problems, diabetes, thyroid problems or urinary problems. These Nasal sprays can even raise blood pressure and pulse rate. These can cause nervousness or dizziness, sleepless nights. Therefore, it is better to consult the doctor before taking such nasal sprays. However, some precautions are to be kept before using such throtis nasal sprays:
• Consult the doctor before taking such nasal sprays like allergy, other medications.
• Consult doctor that if you have recent any allergies
However, there are some side effects of throtis nasal sprays like fever, sinus pain, weakness, diarrhoea, ear pain, chest pain.

However, the correct use of nasal sprays will help you to remove your cold and sinus pain. Therefore, before buying such nasal sprays make sure that you have consulted your doctor for proper medication.
In the market, several nasal sprays are providing sprays but proper medication can be made after adequate consultation with doctors.

So we can conclude that nasal sprays are considered to be a boon for those patients with sinusitis problem or cold. But before taking such inhalers of nasal sprays make sure you consult the doctors. However, if you are interested in selling such excellent throtis nasal sprays, then make sure you make proper research about the manufacturers that are providing excellent products at affordable prices.
This entry was posted on June, 10, 2021 at 15 : 41 pm and is filed under Nasal Spray. You can follow any responses to this entry through the RSS 2.0 feed. You can leave a response from your own site.